Twitter overlord Elon Musk showed sympathy on Friday for the Capitol rioter dubbed the "QAnon Shaman," in the billionaire's latest effort to downplay the deadly events of Jan. 6, 2021.
"Free Jacob Chansley," Musk tweeted to his 130 million followers, apparently suggesting the rioter's sentence was unwarranted.
Chansley had earned his nickname by raiding the U.S. Capitol bare-chested on Jan. 6 with a furry Viking-style hat and face paint, carrying an American flag zip-tied to a spear.
For making threats and disrupting Congress as its members attempted to certify the results of the 2020 election, Chansley got 41 months in prison, or just shy of three and a half years.
He is one of 1,000 people to be arrested for their participation in the attack on the Capitol and the law enforcement officers defending it. More than 300 people have been charged with physically assaulting or resisting officers or employees.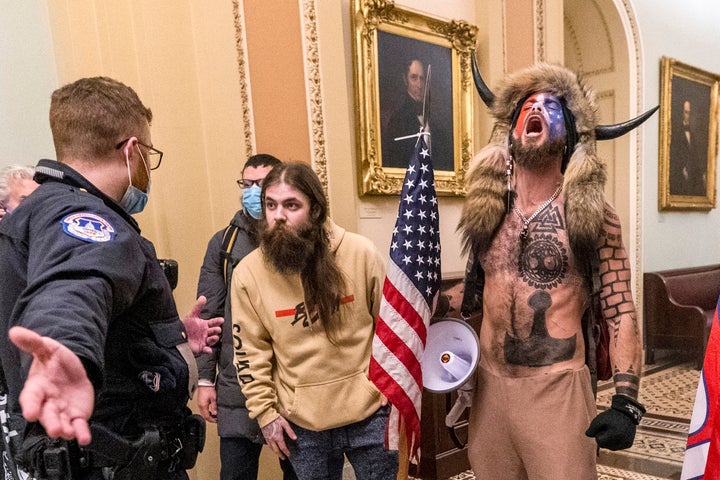 Yet Musk has recently begun to promote the false idea — pushed by House Speaker Kevin McCarthy (R-Calif.), Fox News host Tucker Carlson and other conservatives — that the Capitol attack was actually a mostly peaceful event.
In a segment last week that was criticized by U.S. Capitol Police Chief Tom Manger, among others, Carlson used selectively edited footage to make the breach seem far tamer than it truly was.
Musk promoted the segment repeatedly on his Twitter page with credulous commentary.
On Friday, Musk reacted to a video clip that showed Chansley using a bullhorn to read a tweet sent by former President Donald Trump at around 3:15 p.m. on Jan. 6.
"Respect the Law and our great men and women in Blue," Trump wrote, as read out by Chansley.
This, combined with other footage that showed Chansley walking alongside law enforcement through the halls of the Capitol, seemed to absolve him in Musk's mind.
"Chansley got 4 years in prison for a non-violent, police-escorted tour!?" the Twitter and Tesla CEO marveled. (The sentence was less than four years.) In another tweet, Musk claimed Chansley "was falsely portrayed in the media as a violent criminal who tried to overthrow the state and who urged others to commit violence."
"I'm not part of MAGA, but I do believe in fairness of justice," he added.
Chansley pleaded guilty to charges of civil disorder, disorderly and disruptive conduct, violent entry to a building, and other counts at his November 2021 sentencing hearing. Prosecutors said he pushed past a police barrier to enter the Capitol and made his way to the Senate floor, where he shouted "Mike Pence is a fucking traitor" from the dais, and led other protesters in a chant against "all the tyrants, the communists, and the globalists."
He also left a note: "It's Only A Matter of Time. Justice Is Coming!"