PORTLAND, Ore. – On a sidewalk littered with tarps, bicycles and discarded food containers, one tent sat farther away from the rest. It was clean, with the rain fly removed, showcasing the vacant interior.
"This is an empty tent erected by activists to encourage people to live in tents," Kevin Dahlgren said.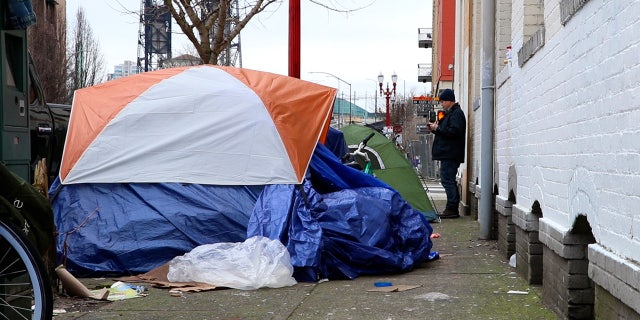 CRIME TURNED PORTLAND INTO A 'HOLLOWED OUT SHELL.' ITS NEIGHBORS ARE TRYING TO KEEP IT FROM HAPPENING TO THEM
Dahlgren's day job is reducing homelessness in the City of Gresham, but he spends most of his free time talking to those who live on the streets of Portland. He often posts videos of his conversations on Twitter, hoping to shed light on the West Coast's "dysfunctional system" for addressing homelessness.
During his 27 years in social services, Dahlgren said he's seen a shift from permanent solutions to Band-Aid approaches.
"When you're not actually helping the permanent solutions, the old homeless stay there and the new homeless come in and everything just grows," he said.
Oregon has one of the highest rates of homelessness in the nation. An estimated 17,959 people were homeless in the state during the nationwide count last year, 11,000 of whom were unsheltered, according to the Department of Housing and Urban Development.
The state — and its largest city — have struggled to reverse the trend.
"I haven't seen any really permanent solutions being offered to anybody," said Anthony, who told Fox News he became homeless earlier this year. "The most that I've seen is just, you know, 'Here, let me give you a really thin blanket. Let me give you a tent.'"
Anthony told Dahlgren he's sober, so Dahlgren recommended he check out a transitional housing facility in North Portland.
WATCH: PORTLAND HOMELESS CRISIS 'JUST GETTING WORSE'
WATCH MORE FOX NEWS DIGITAL ORIGINALS HERE
About 80% of the homeless have a history of addiction, Dahlgren said. In the wake of Oregon's first-in-the-nation drug decriminalization effort, open air drug use has become the norm, and bystanders have become "desensitized," according to Anthony.
"They'll do their drugs right in front of cops and the cops don't do anything," he added. "Which, I mean that's good that the cops aren't ruining their lives even more."
Widespread fentanyl is increasing overdose deaths and desperation among Portland's homeless population, Dahlgren said, contributing to the city's rampant property crime.
"I don't, like, steal from stores. I try to keep everything like legal as best I can," said Josh, 33, as he huddled in a doorway for warmth on a cold February day, a lighter clutched in his hand and a blackened piece of tinfoil at his feet. "I personally just panhandle."
Nonprofits in Portland distribute clean syringes, pipes and overdose-reversing naloxone — services they call harm reduction.
"The amount of lives that I've saved with the Narcan is amazing," said Matthew, who has been homeless off-and-on since 2013. "I've saved like, 20 people."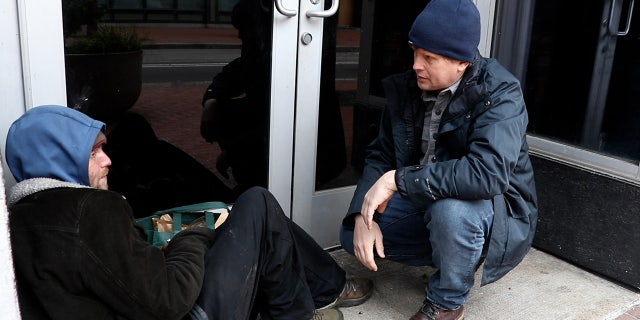 'FAMILY HAS POWER': RECOVERING ADDICT WHO WITNESSED MORE THAN 100 OVERDOSES RESCUED BY LONG LOST SISTER
But Dahlgren called Portland's current approach to addiction and homelessness "all harm and no reduction."
"They won't even offer the sobriety solution or the recovery solution," Dahlgren said. "You're giving a person who already lacks critical thinking and rational thought the means to continue to use, and that's insane to me. And it feels at times really inhumane."
None of the homeless people Fox News spoke with had been encouraged to get addiction treatment or find a way off the streets. Matthew said he's never even been approached by an outreach worker.
"I'm the first outreach worker to talk to him in nine years in Portland, Oregon," Dahlgren said. "I hear this every day. So where are they?"
With hundreds of unsanctioned camps spread across 146 square miles, it's "impossible to hire enough outreach workers to meaningfully connect people to services, including shelter," Portland Mayor Ted Wheeler said in a recent video.
That's part of the reason Wheeler has pushed for the creation of six large, city-sanctioned homeless camps, despite fierce opposition from some residents who likened them to "concentration camps."
"There's nothing humane about the situation on Portland's streets," Wheeler said. "Our collective goal should be to eliminate unsanctioned, unsheltered camping in Portland."
Wheeler expects the first of those camps to open by summer and hold up to 150 individuals, KOIN 6 reported.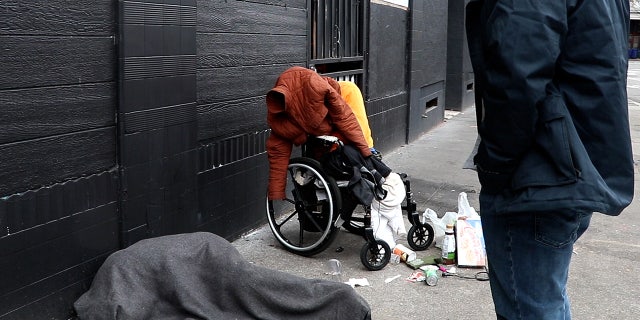 CLICK HERE TO GET THE FOX NEWS APP
Dahlgren supports the city's plan for designated camping spots, calling it a "good first step."
"A lot of homeless that I have met right now are not interested in any type of housing," he said. "They want to be outdoors for a variety of reasons. It could be trauma, could be the addiction, it could be this is where their family is and transition off the streets can be very difficult."
Dahlgren said he sees "so much potential in everybody on the streets" and hopes to continue helping individuals build a future for themselves.
"That should be the number one goal with homeless outreach," Dahlgren said. "How do we make them self-sufficient? How do we make them thrive?"